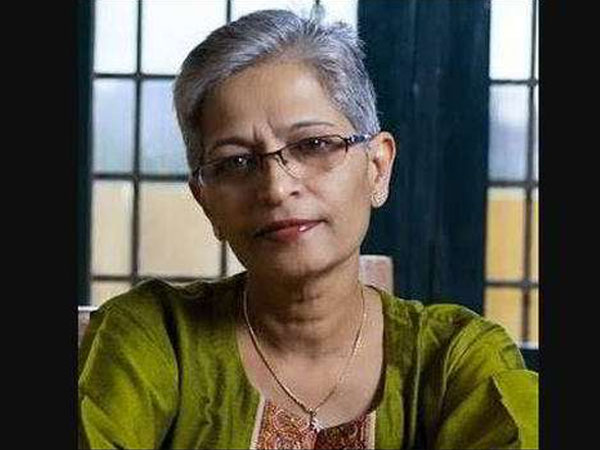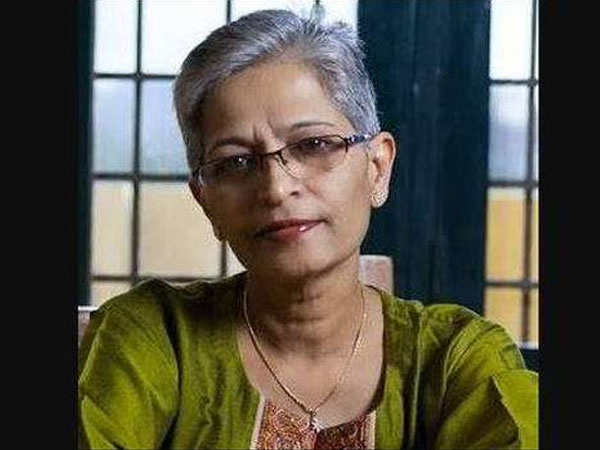 This is the sad time and all those who have any sensitivity for human values must stand with the family of Gauri Lankesh and help find the culprits.
Gauri Lankesh had every right to say what she wanted to say. She had a pen and was writing what she wanted believed in. The state must have protected her.
We mourn her tragic death and demand CBI enquiry to nab the culprits soonest and punish them.
We may disagree with her- completely and strongly too. So what? Disagreements are part of our Indian life and that's what it makes us a great nation. Who are we to tell anyone to write our way and like what we like ? She was writing what many would fiercely disagree with and feel hurt. Still she continued and showed a courage so rare. Her supporters are doing no good to her memory by denigrating her journey to a level of street fight.
How can we allow such a tragic incident to turn into a business of reaping political profit? The most horrendous statement and tweet I saw soon after the news of Gauri's death was flashed was from the national gen secy of Congress Mr Rahul Gandhi. The party that presided the massacre of the Sikhs in 1984 and under whose governments Dabholkar and Kalburgi were killed, is now blaming RSS, BJP for Gauri's death as if Sidharamaiya is a CM of some Saturn state and Karnataka's law and order is not a business of state govt. Thank god they haven't yet started a campaign to blame RSS/BJP for hurricane Harvey!!
Then there are secular 'super cops' pronouncing judgement even before police filed an FIR. Whom are they serving? They are not helping Gauri get justice but using her tragic end to take a political revenge on ideological foes.
Every citizen in this country has a right to follow an ideology within the frame work of our constitution. Gauri did follow an ideology and as some reports suggest she adopted some pro-Naxal activists who would stand with those Maoists who are found brutally killing our soldiers.
Ours is a democracy with a Hindu majority and not a Stalinist state or an Islamic republic that stifles 'other voices' sending non-conformists to Gulags or stoning them to death. Her supporters say that her voice antagonised the seat of power- well, thats how it should be. Thats all about democracy. And democracy also means a belief in the constitution and having a respect for those who are working to protect that. Soldiers do that and Naxals aim to destroy constitution. She was also convicted once for publishing false news by the Indian courts.
Those who say they are her supporters are conspicuously silent on her brother's statement that he would like the matter to be investigated by CBI. He has no faith in Congress govt's police.
Brutality and insensitivity on communal and ideological lines is the distinct feature of the left extremism and secular groups. We have been seeing it in Chattisgarh, Kashmir and Kerala. The hypocrisy and shamanist shows of concern for Gauri are dubious as these 'enlightened ones' never spoke on the media persons killed in UP because they didn't belong to their 'group'. They kept silence on the brutal killings of twelve Kannadigas for following RSS/BJP ideology in Karnataka in the last two years. If Gauri had an ideology , so did these RSS members. Why discriminate the killings on the basis of ideological colour? Why both the killings don't receive an equivocal condemnation and outrage?
They are also silent on the suspicion that she was exposing corrupt politicians and industrialists of the state and felt being threatened. These slogan shouters are politicising the issue and shielding the failure of Karnataka govt just because it is a friendly' one.
Vigorous human rights in a diverse, tolerant and plural nation are not only essential for the protection of various ethnic groups, faiths and ideologically assertive sections. They are the very essence of our spirit of togetherness and essential for a healthy democracy. It is the extent of prejudices towards non-left, non-congress groups and specially against Hindutva workers that reflect in the precipitated hatred and intolerance towards them violating the basic principle of social cohesion that demands mutual acceptance and recognition as a prerequisite for a progressive civilisational nation's growth.
ನ್ಯೂಸ್ 13 ಸಮಾಜದ ಧನಾತ್ಮಕ ಸುದ್ದಿಗಳನ್ನು ಹಾಗೂ ರಾಷ್ಟ್ರೀಯ ವಿಚಾರಗಳನ್ನು ನಿಮಗೆ ತಲುಪಿಸುವ ಪ್ರಯತ್ನ ಮಾಡುತ್ತದೆ. ಈ ರೀತಿ ಇನ್ನಷ್ಟು ಉತ್ತಮ ಸುದ್ದಿಗಳನ್ನು ತಲುಪಿಸಲು ನಿಮ್ಮ ಸಹಕಾರವನ್ನು ಅಪೇಕ್ಷಿಸುತ್ತಿದ್ದೇವೆ. ಈ ಕಾರ್ಯದಲ್ಲಿ ನೀವೂ ನಮ್ಮೊಂದಿಗೆ ಜೊತೆಯಾಗಿ.
News13 strives to publish and promote positive news/happenings and nationalistic thoughts. Join hands with us in this constructive cause. We hope and expect your co-operation in this objective of broadcasting news that shall keep up with quality journalism.