Tuesday, March 26th, 2019
News13
The evening was filled with power packed performances, with Shahrukh Khan adorning the hat of the host
Raaziwon the Best Film while Ranbir Kapoor (Sanju)and Alia Bhatt (Raazi) took home the coveted Black Lady for Best Actor and Best Actress award respectively
Mumbai : The 64th Vimal Elaichi Filmfare Awards personified glamour, creativity and true celebration of the excellent work showcased in 2018 in Indian film industry. The who's who of B'Town came together to witness the outstanding talent and films of Indian Cinema being gratified with the symbol of creativity and utmost credibility, the Black Lady. The winners of the 3rd Filmfare Short Film Awards 2018 also found the spotlight at the most prestigious stage as they were honoured with the coveted Black Lady. The much-talked about event took place at the Jio Gardens in BKC, Mumbaiand will broadcast on 20th April on Colors, the exclusive telecast partner.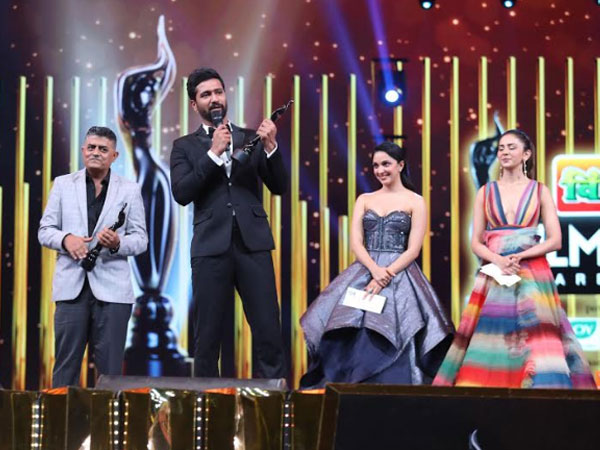 The red carpet was at its splendid best as the glitterati came together for this annual celebration of creative excellence in the Hindi film industry. Sonam Kapoor, Deepika Padukone, Ranveer Singh, Katrina Kaif, Hema Malini, Ayushmann Khurrana, Vicky Kaushal, Sara Ali Khan, Alia Bhatt and Ranbir Kapoor among others grabbed the spotlight with their uber chic style. Entertaining the audience to the fullest was none-other-than the Badshah of Bollywood, Shahrukh Khan, who held the attention of the crowd throughout the splendid evening as the host. The night witnessed an unforgettable performance by the nation's heartthrob Vicky Kaushal, who marked his debut on the Filmfare stage. Actors Kirti Sanon, Janhvi Kapoor, Rajkumar Rao, Ishaan Khattar also set the stage on fire with their astounding dance moves. The entertainment bar was raised to an all time high by the very energetic and mesmerizing finale act by Ranveer Singh.
Meghna Gulzar won the Best Director Award for Raazi. Ranveer Singh (Padmaavat) and Ayushmann Khurrana (Andhadhun) and Neena Guptawon the award for the Critics Best Actor award (Male) and (Female)respectively.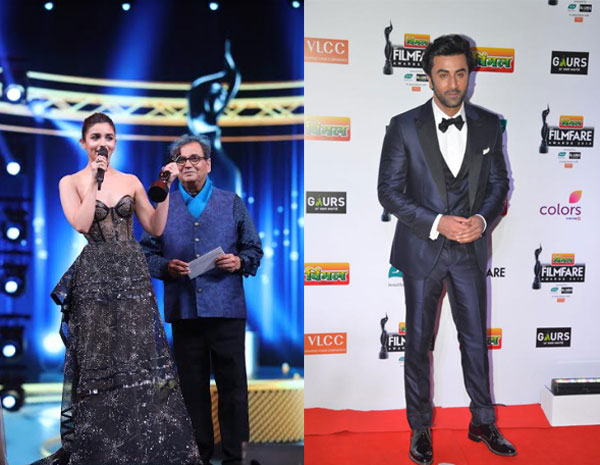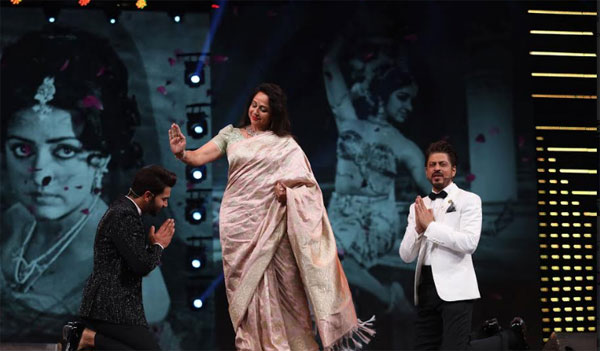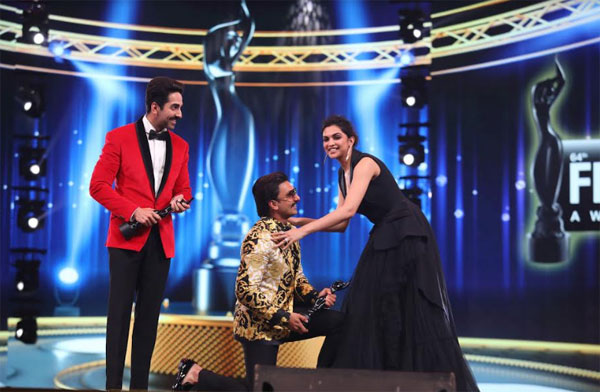 The title sponsor for the awards night, for the very first time was VimalElaichi– Bolo ZubanKesari, powered byJoy Beautiful by natureand, Gaursons India, Associate Sponsor VLCC, Exclusive Telecast Partner Colors, Styling Partner Manyavar, Refreshment Partner Rasna Native Haat, Ice Cream Partner Havmor Ice Creams, Outdoor PartnerBright Outdoor Advertising, Cinema Advertising Partner Khushi Advertising, Radio Partner Radio Mirchi, English News Channel Partner Times Now, Music Partner T Series,Hydration Partner Blue Pine Water, Beverage Partner Living Liquidz, Food Partner Indigo Burger Project,Trophy Partner The Award Gallery, Invitation Partner Ravish Kapoor, Venue PartnerJio Garden, Technical Direction & Stage Management On Cue Productions; Acts Remixed, Choreographed & Designed by Shiamak Davar, Dancers by Shiamak Davar Institute Of Performing Arts, Show Designed, Scripted, Directed & Managed by Fountain head Entertainment; Show Director V.G. Jairam.
About Filmfare Awards:
Established on March 21, 1953, Filmfare Awards is one of India's oldest and most distinguished film institutions and has spanned generations of exceptional talent. From a small ceremony which featured just five awards, the Filmfare Awards function has evolved into one of India's most spectacular events, where the best of Indian cinema perform, host and do what they do best – entertain. The Black Lady is something every cinephile aspires to take home.
About Worldwide Media:
Worldwide Media is a part of the Times Group, one of India's largest media and entertainment conglomerates, and publishes Filmfare – India's No 1 entertainment magazine. Femina – India's largest women's magazine, BBC TopGear, HELLO!,GoodHomes, GRAZIA, Lonely Planet Magazine India, Home & Design Trends and Times Knowledge.in are other exciting titles from Worldwide Media.
ನ್ಯೂಸ್ 13 ಸಮಾಜದ ಧನಾತ್ಮಕ ಸುದ್ದಿಗಳನ್ನು ಹಾಗೂ ರಾಷ್ಟ್ರೀಯ ವಿಚಾರಗಳನ್ನು ನಿಮಗೆ ತಲುಪಿಸುವ ಪ್ರಯತ್ನ ಮಾಡುತ್ತದೆ. ಈ ರೀತಿ ಇನ್ನಷ್ಟು ಉತ್ತಮ ಸುದ್ದಿಗಳನ್ನು ತಲುಪಿಸಲು ನಿಮ್ಮ ಸಹಕಾರವನ್ನು ಅಪೇಕ್ಷಿಸುತ್ತಿದ್ದೇವೆ. ಈ ಕಾರ್ಯದಲ್ಲಿ ನೀವೂ ನಮ್ಮೊಂದಿಗೆ ಜೊತೆಯಾಗಿ.
News13 strives to publish and promote positive news/happenings and nationalistic thoughts. Join hands with us in this constructive cause. We hope and expect your co-operation in this objective of broadcasting news that shall keep up with quality journalism.