Monday, March 6th, 2017
News13
Media Professionals to grace Beacons media fest
Mangaluru: Nitte Institute of Communication (NICO), constituent college of Nitte University will see a host of eminent media professionals like Vasanthi Hariprakash and Sandalwood Lyricist Dr Jayanth Kaikini among others at its three days National Media Fest and Seminar – 'Beacons 2K17' from March 9 to 11 at its Paneer campus in Deralakatte.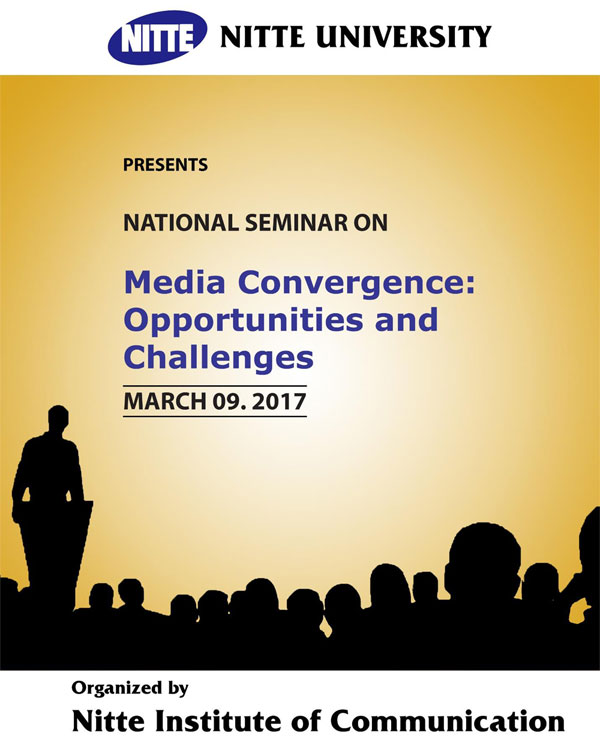 The maiden National Seminar which will be held on the theme 'Media Convergence – Opportunities and Challenges' on Thursday, March 9th will be presided by Ms Vasanthi Hariprakash, independent journalist, trainer, speaker and media strategist. Prof Varadesh Hiregange, Director of Gandhian and Peace Studies, Manipal University, Prof Chandra Mouli, HOD, Acharya Institute of Graduate Studies and Dr Ronald Anil Fernandes, Bureau Chief – Deccan Herald will be the panelists for seminar.
The valedictory ceremony of seminar will be presided over by Dr Indrani Karunasagr, Director of Nitte University Center for Science Education and Research. The seminar will see a participation and presentation of research papers by media professionals, academicians, students and research scholars from across India.
The fourth edition of the Media Fest- 'Beacons- 2K17' will be held on Friday and Saturday, March 10 and 11. The two day media fest filled with dance, music and exciting competitions like Theme dance, Face painting, Mock press, JAM, Creative writing, Crisis management, Spot Photography, Short Film making, Icebreaker, Treasure hunt, Live reporting, Mime, Quiz, RJ Hunt and Product Launch will see a participation of nearly 20 colleges from across India.
Sandalwood lyricist Dr. Jayanth Kaikini and Sandalowood film 'Kirik Party Fame' Kiranraj will grace the valedictory ceremony of 'Beacons- 2K17' which will be held on Saturday, March 11. Mr Kiranraj, Associate Director will also be conducting a workshop on film making for students on March 11.
About NICO : Nitte Institute of Communication (NICO), constituent college of Nitte University since 2013 has been offering a clutch of innovative UG and PG programs in Media and Communication. The students here have access to a state-of-the-art Broadcast Studio, Print Design, TV Editing & Web Design labs, library, wi-fi campus and fully-digital facilities for professional education and research in the area of communication and journalism. The curriculum is fully in tune with the needs of a student who wishes to serve the modern media industry and society.
Ms Vasanthi Hariprakash : From being sub-editor on the New Indian Express desk, Ms Vasanthi Hariprakash has been a leading RJ on Radio City 91.1 FM, Bengaluru. She has also served as a special correspondent at NDTV 24×7 and has anchored documentary episodes on BBC World News reporting from places like Nepal, Laos and Vietnam. Being a multi talented personality who knows the pulse of radio, television and digital media, she is the founder of 'Pickle Jar', a platform that curates film festivals and programs of social relevance. She currently writes, trains media individuals and institutions and moderates debates and panel discussions.
Dr Jayant Kaikini : Recipient of Karnataka Sahitya Academy award Dr Jayant Kaikini is a renowned poet, short story writer and Sandalwood lyricist. Besides being the first Indian author to have won the prestigious 'Kusumagraja' national literary award by Nasik Open University (2010), he has been awarded a doctorate by Tumkur University (2011). He has received series of filmfare awards for best lyrics.