Punjab & Sind Bank is pleased to announce an upcoming Loan Mela on September 12th and 13th 2023, at their new location in Mangaluru. This initiative is promote financial literacy to public and empower individuals to make financial decisions.
The session will include different types of loans, interest rates, repayment options, and the terms and conditions associated with them. Whether you're thinking about getting a home loan, education loan, or personal loan, this session will provide valuable insights into the eligibility criteria, documents needed, and the application process.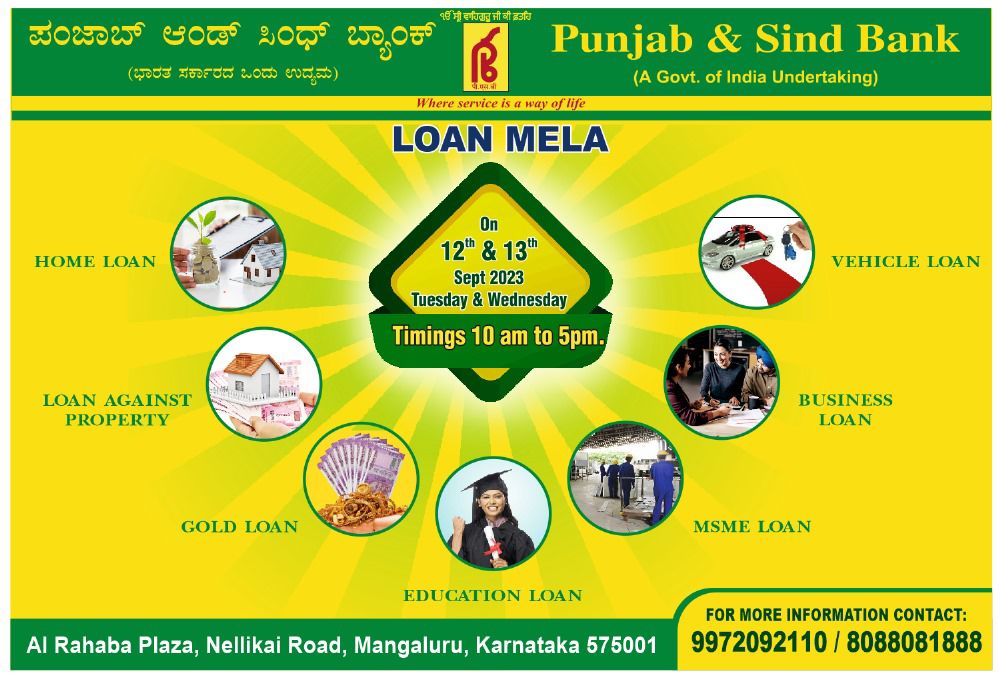 Home Loans: Making Home Ownership Easier
For many people, buying a home is a significant achievement. The session will shed light on the two primary methods of home purchase: through a home loan or by paying the entire amount upfront. While it's generally advisable to minimize debt, leveraging a home loan can be a better option due to low interest rates and tax benefits. Participants will understand how financing your dream home through a loan can help you preserve your existing assets and optimize your financial situation.
Education Loans: Investing in Your Future
The session will also address the crucial decision students face when considering education loans for studying in India or abroad. This session will explore the advantages of education loans, such as preserving personal savings, accessing funds as needed for educational expenses, and mitigating the impact of foreign currency fluctuations. By understanding the benefits of education loans, you can make informed choices that reduce financial burdens during your academic journey.
MSME and Business Loans: Driving Business Growth
If you're a business owner looking to expand, our session will provide valuable insights into MSME and business loans. You will discover the importance of injecting capital at the right time and in an efficient manner. By exploring various loan options available for business growth, you will gain the knowledge necessary to make informed decisions that promote the expansion and prosperity of your ventures.
Commitment to Well-being and Prosperity – By attending the loan mela individuals can gain financial knowledge and make informed choices. Punjab and Sind Bank is dedicated to foster a financially aware society.